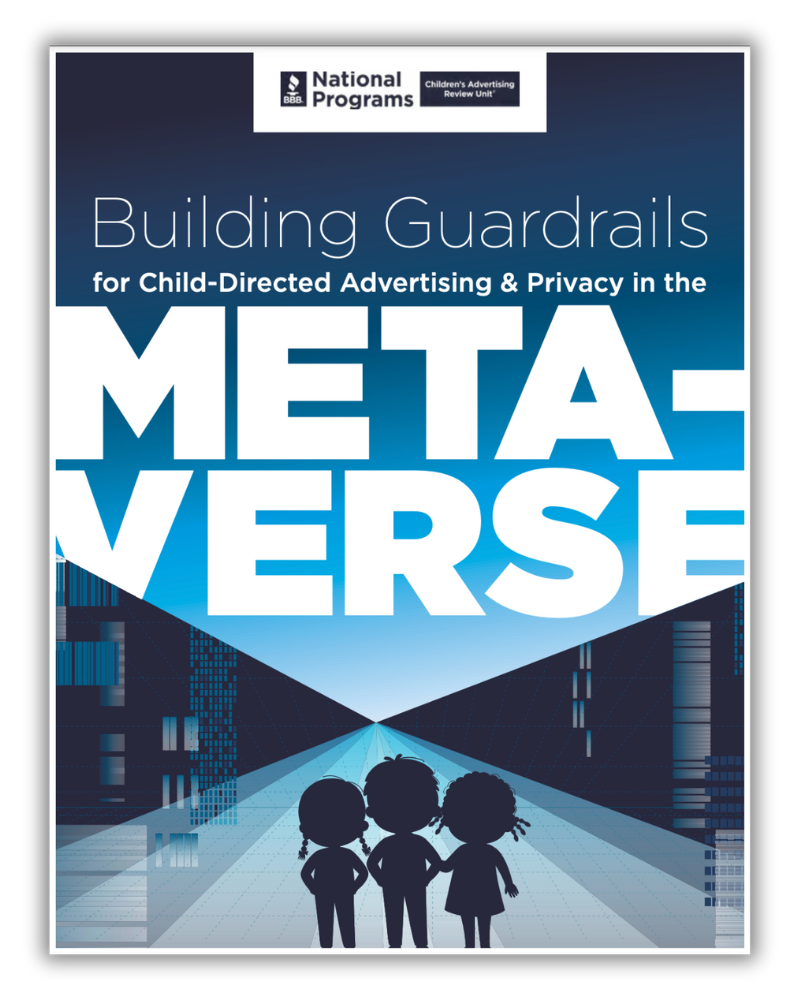 Building Guardrails for Child-Directed Advertising & Privacy in the Metaverse
While the metaverse provides children with various learning and play activities, it also brings with it potential risks. These recommendations encompass advertising, privacy, and other related risks with the overarching goal of ensuring that brands engage with children in a responsible and positive manner within this evolving digital landscape.
What's Inside?
The Metaverse Guardrails are a set of realistic, actionable recommendations and best practices intended to help companies to:
▫️ Develop metaverse experiences directed to children;
▫️ Comply with existing advertising and privacy law; and
▫️ Engage responsibly with children online.
These Guardrails were developed by BBB National Programs' Children's Advertising Review Unit (CARU) and its Metaverse Working Group, a convening of diverse well-respected global industry professionals representing toy, gaming, network, food, streaming, adtech, and mobile brands popular with children.
"Tens of millions of children under age 13 are active in immersive, virtual environments and game spaces, and while children can benefit from such hands-on experiences, they are also subject to unique potential risks and harms.
The Metaverse Guardrails do not intend to resolve or respond to all the complex scenarios within the metaverse, but instead focus on providing companies with a thorough understanding of the current advertising and privacy regulatory landscape and best practices for the application of those regulations to certain scenarios in this emerging marketplace."
Rukiya Bonner
Director, Children's Advertising Review Unit, BBB National Programs
About the Children's Advertising Review Unit
The Children's Advertising Review Unit (CARU), a division of BBB National Programs and the nation's first Safe Harbor Program under the Children's Online Privacy Protection Act (COPPA), helps companies comply with laws and guidelines that protect children from deceptive or inappropriate advertising and ensure that, in an online environment, children's data is collected and handled responsibly. When advertising or data collection practices are misleading, inappropriate, or inconsistent with laws and guidelines, CARU seeks change through the voluntary cooperation of companies and where relevant, enforcement action.